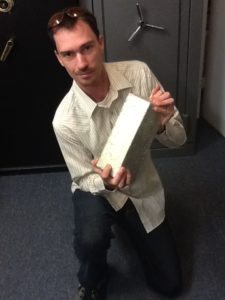 My name is David Day, and I am the owner and operator of Montana Bullion & Coin. I began trading metals around 2008, in the midst of the housing-bubble, and subsequent bank bailouts.  I have always been a firm believer in physical tangible assets, and as the stock market was then plummeting, I protected and grew my savings with physical gold and silver.
In 2013 I was hired on at a precious metals exchange in Missoula, Montana. With what I had learned trading metals on the other side of the counter, I had an immediate knack for buying and selling precious metals, and most importantly helping others avoid the pitfalls of first-time metals investing. I cut my teeth in the business over the next 5 years and continued my education in numismatics.  In 2014, I moved to Billings, Montana and opened the second location for the company I was working for, and managed and operated that branch for 4 years.
In 2018 I stepped out on my own, and opened Montana Bullion and Coin.  I take great pride in being an owner that is also the operator, directly involved in the business, and making sure that each customer's needs are taken care of to the best of my ability.  By keeping lower overhead, I can once again bring lower premiums and a more competitive market to the local area. As one of the younger metals dealers in business, I plan on being around for some time to bring you fair prices, expert service, and honest deals.
My mission is to serve my customers in a way that I wish I would have been treated when I first started investing in precious metals and rare coins; with honest and helpful advice – and to put service and education in front of profits.
As of 2020, I am typically leading the local market in competive pricing both buying and selling, and have developed a strong word-of-mouth reputation, with little advertising.  In the midst of the most interesting times for trading precious metals, I am also gaining traction throughout the country from out-of-state investors ecountering supply issues and price gouging, and am glad to serve your precious metals needs throughout the greater reaches of the U.S., with the same local, honest service you would find if you walked through my door here in Billings.
I am a member of the American Numismatic Association and the North American Collectibles Association, and strive to serve with the highest moral standards in the business.
I very much appreciate your business – and any word-of-mouth recommendations you could give others. If there's anything I can help you with, please don't hesitate to be in touch.
(406) 969-3005
david @ montanabullion.com
Much appreciation,
David Day, owner/operator
Montana Bullion & Coin established 2018